5-8 Grade Music Festival Information: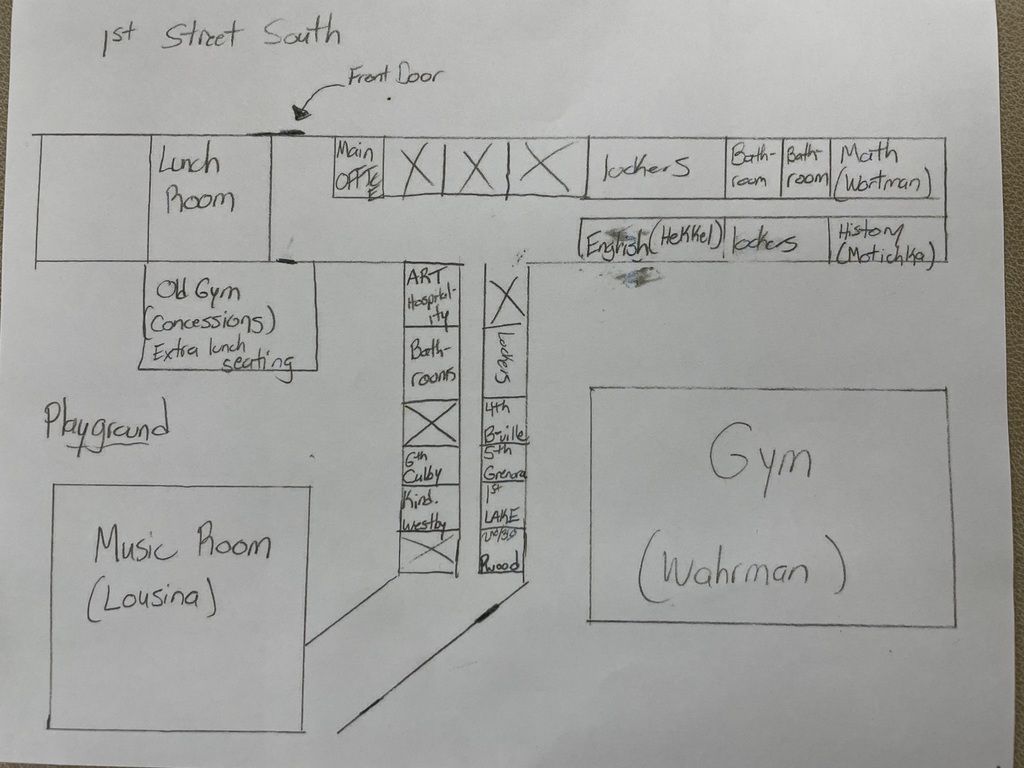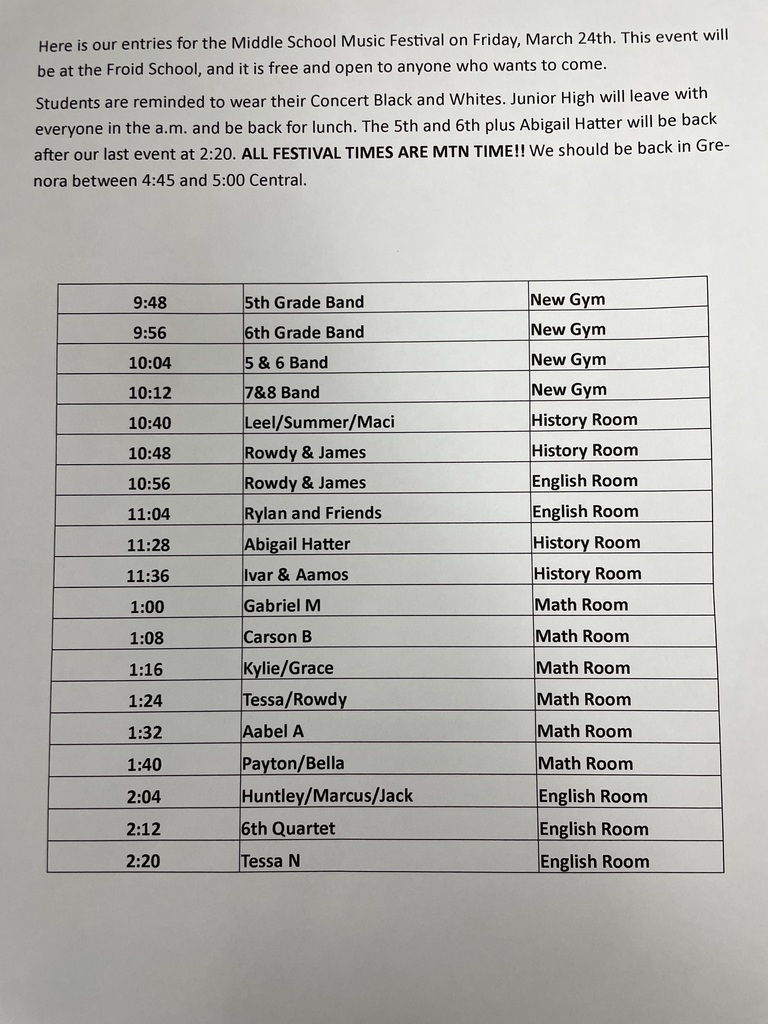 Congratulations to the 9-12 Academic Olympics team for winning the Regional Championship. They will be heading to the State Competition on Tuesday, March 28! Thank you to Mr. Holecek for coaching these students!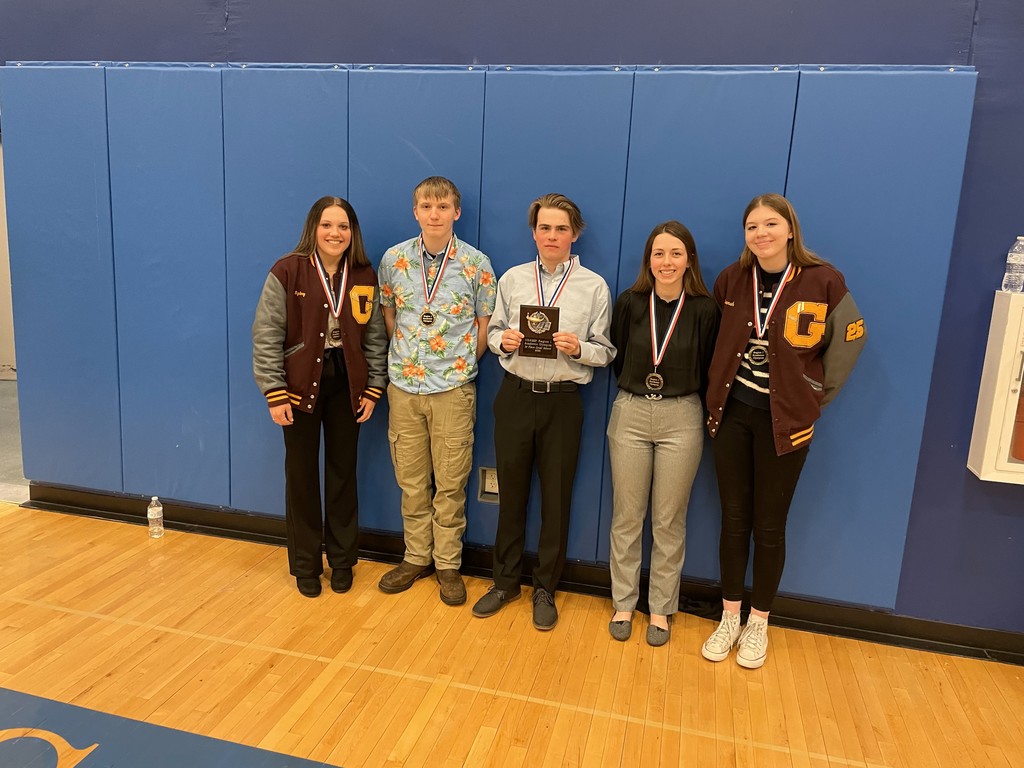 Middle School Festival is this Friday the 24th. All students are expected to come to school in their concert black and whites. All students grades 5 - 8 will leave right away in the morning. 7th and 8th grade will return to Grenora at lunch time. The 5th and 6th grade will be returning after their last event, which is scheduled at 2:20 MTN time. So we should be back with 5th and 6th at 4:45 - 5:00 PM.
Attention: Grenora Parents and Students Our voyage starts next week, March 27, when we will cast off in search of Book Blast treasure. Once you receive your Treasure Map next week, the treasure hunt begins! Be sure to complete yours for a chance to win one of 4 Treasure Chests full of cash and even an Apple iPad! But even better, you will be starting the journey to earning all 10 books on the Treasure Map booklist. Heave ho let's go readers!"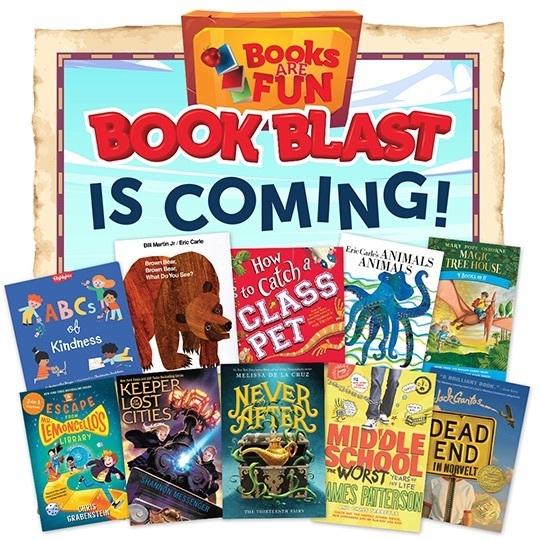 NO Track & Field Practice for grades 7-12 tomorrow, Tue. March 21.

Due to deteriorating road conditions and continued drifting. School and Buses will be 2 hours late tomorrow, Tuesday, March 14 Mr Rudningen
Today is the day. HS choir wear your concert black and whites! We will leave Grenora at 9:00 and be back at 4:00 PM. See you soon!

Due to current weather in the Bismarck/Dickinson areas, along with short term forecasts, the Junior/Senior legislative trip scheduled for Thursday, March 9th and Friday March 10th has been cancelled.

Thunder Fans: Divisional Basketball NFHS Feed can be found by searching Wolf Point high School. They will have one stream going for 5 hours so you may need to refresh the feed. They are not able to put team names on the broadcast because of that. Thunder will be the visitors on the score board for the 11:30 ct game.

Pep Band will be leaving for Wolf Point tomorrow (3/3/23) @ 8:30 am CST. They will play during our girls BB game @ 11:30 am CST. Depending on the outcome of that game, they will either come home or stay and play for the consulation game @ 7pm CST. The school will provide meals. Watch for updates.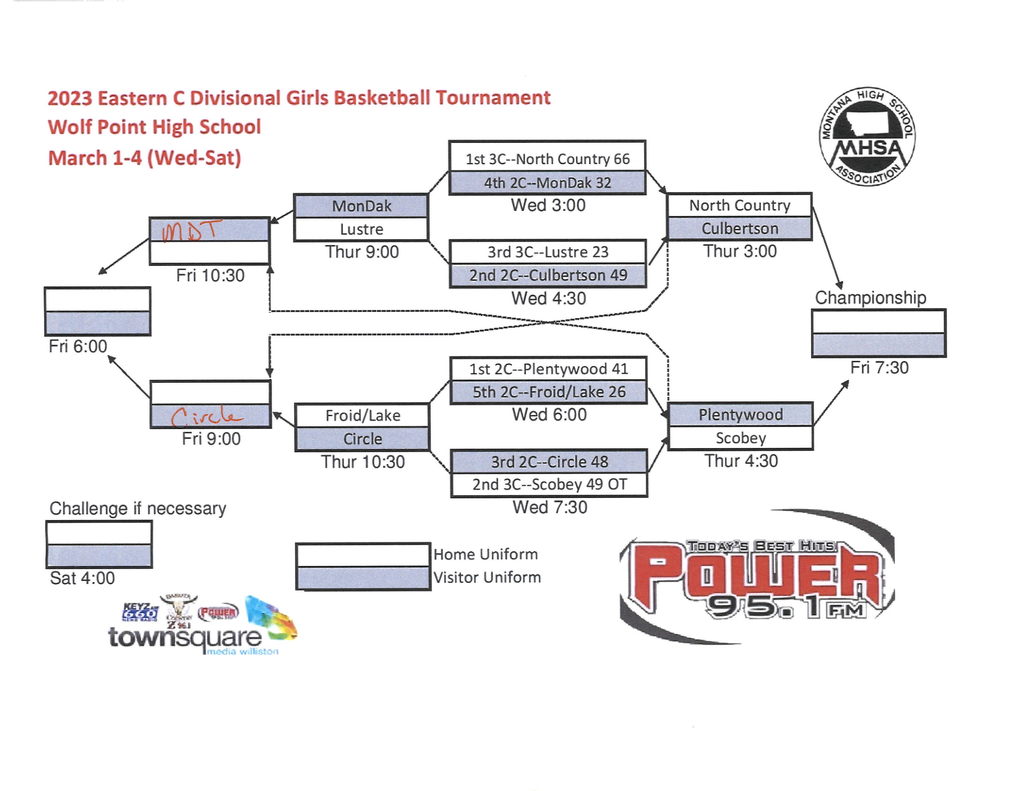 A message from Jim and Charlotte Nielsen-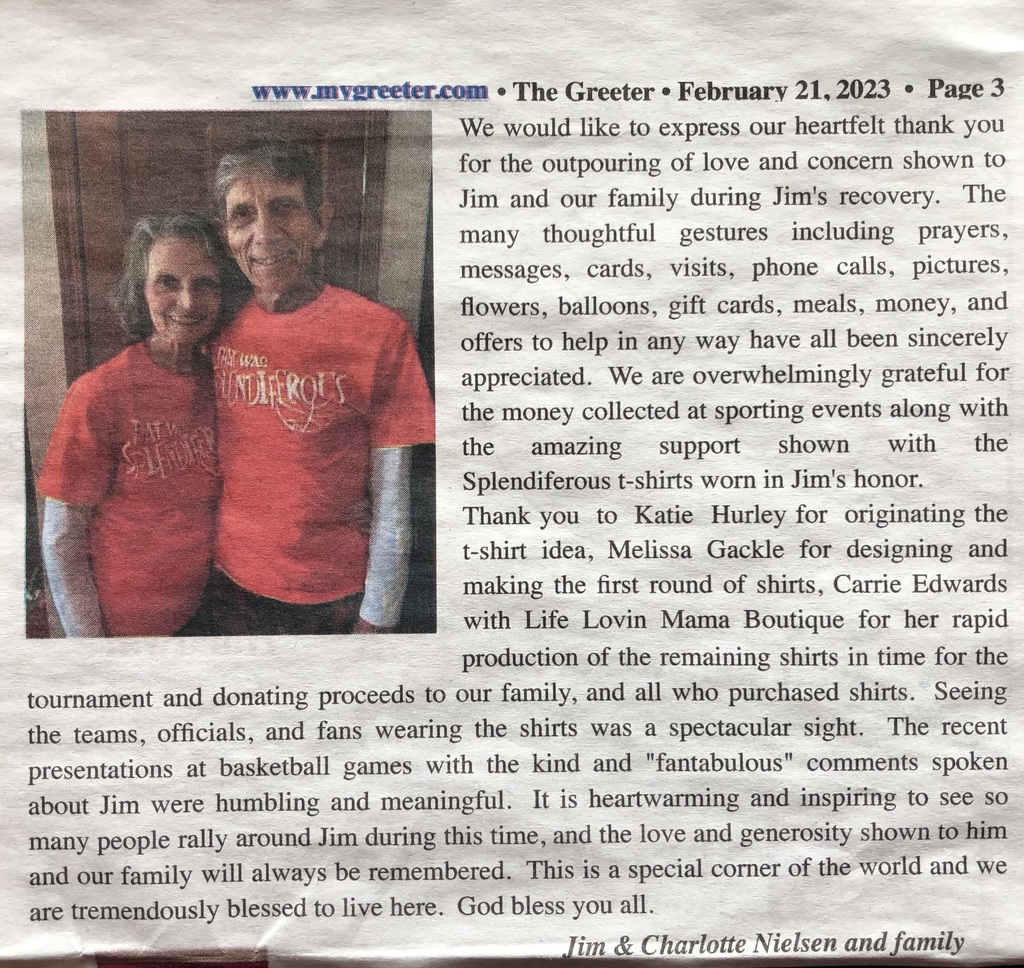 Today is the LAST DAY to order from the School Book Fair! The school library earns 50% of all purchases to stock our shelves with beautiful, brand-new books! There are books for anyone from babies to teens, activity books, and STEM kits! Click the link to order and support our school!
https://p13837.paperpie.com/Event/2509895

Elementary Wrestling Photos will be this Tuesday, February 28, 2023 in Grenora. Please contact Mrs. Freeman with any questions.

The following are dress up days for Divisional Tournament Week.
Tomorrow is the deadline for all students to pay any remaining money to Mrs. Wade if you want to be included in our Music/Ski trip March 29 - April 1, 2023.

Due to parent/teacher conferences, there will be NO after school program on Thursday.

***SCHOOL BOOK FAIR*** Thursday, February 23 at Grenora School 4:00 pm - 9:00 pm Come see what books catch your eye! Visit the link below to check out the book fair online:
https://p13837.paperpie.com/2509895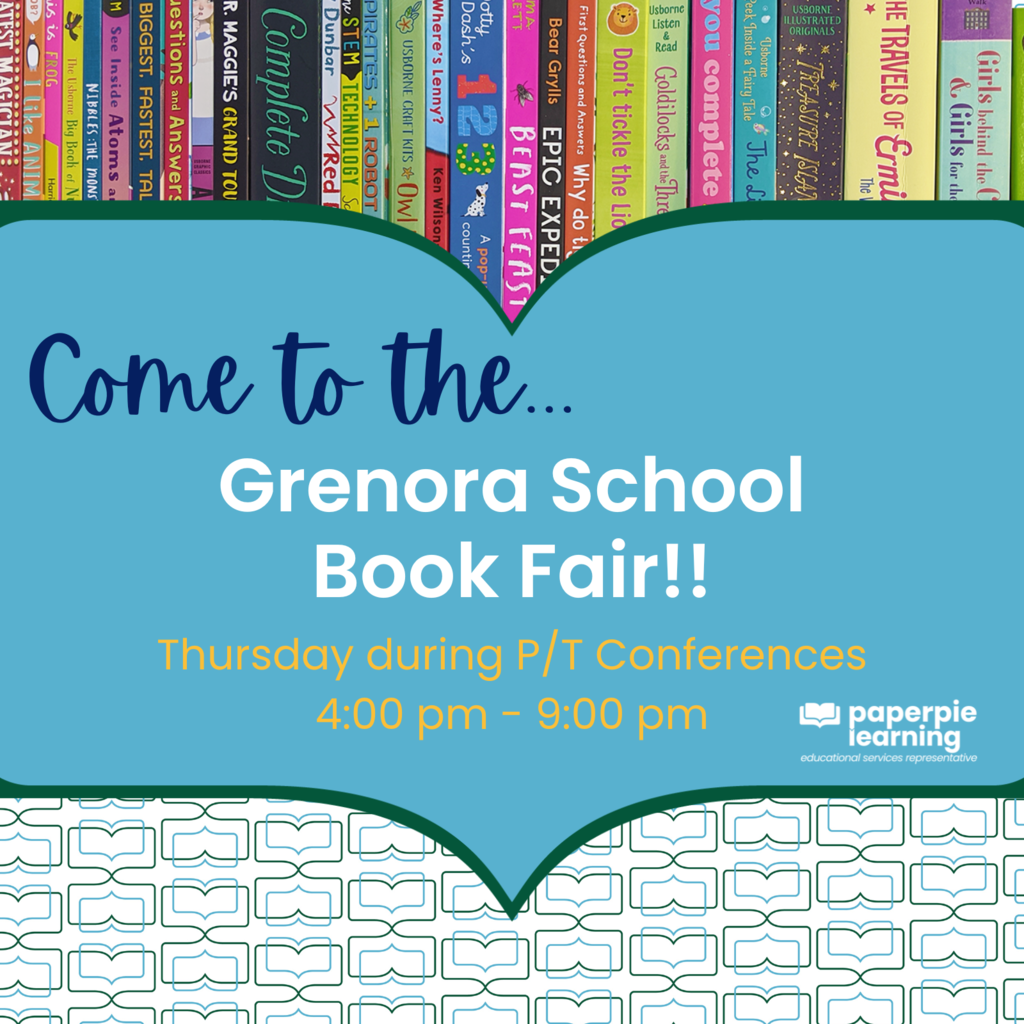 Whether it's an impossible quest, exploring the deepest depths of the ocean, or climbing Mt. Everest, you can always find the best adventures within the pages of a book! Our PaperPie Learning (formerly Usborne Books & More) Book Fair is coming to GPS this Thursday, Feb. 23, during Parent/Teacher Conferences. We'll be set up in the hallway by the office. All orders are "order only" this year, but we'll have a lot on hand to look at so you can really see how wonderful they are! We're very excited to share these books and the fun of reading with you! Our school benefits and earns books from every purchase, so we appreciate your support!! Usborne and Kane Miller books are wonderful, high-quality books on a wide range of topics, including amazing chapter books and early readers, outstanding non-fiction, and the best activity books to get kids excited about reading! The new SmartLab Kits are amazing, too! Can't make it to the book fair? You can still shop online and support our school! Simply go to P13837.paperpie.com/Eventpicker where you'll find the Grenora School Book Fair link that will take you to the store page. We hope you'll join us at the book fair! Showing your child that reading really matters is one of the best examples you can possibly set! Click the link below for more information about our books!
https://online.flippingbook.com/view/632372044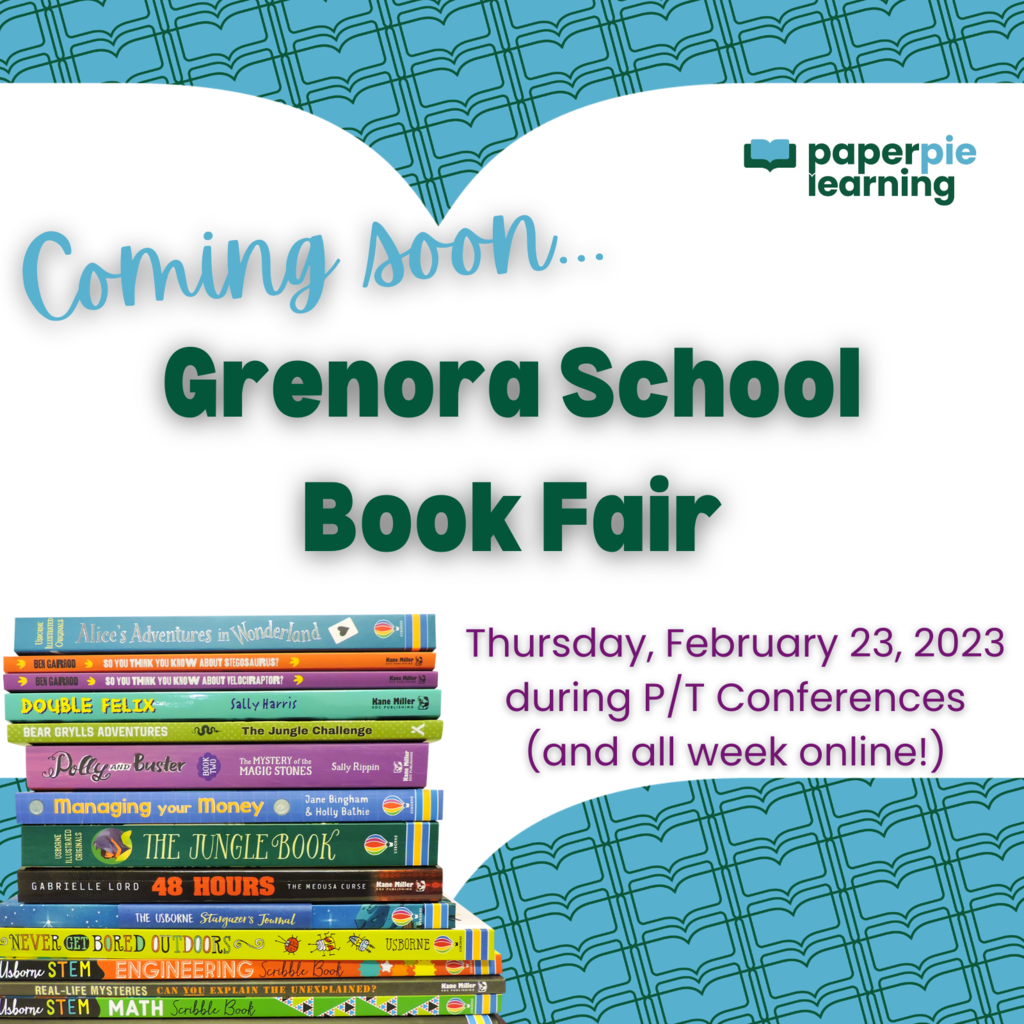 Youth Wrestling practice begins tomorrow (2/21/23). All students K-6 interested in wrestling practice is from 4:30pm-5:30pm CST.