Sports Schedule Additions! JV Football will be traveling to Fairview on Monday (9/27) for a game at 5:30pm MST. On Friday (10/1) Varsity Volleyball will be starting at 4:30pm MST in Richey. Also on Friday (10/1), 4th-6th Grade football will be playing a game in Circle before Varsity at 4:00pm MST.

FREE Early Childhood Screening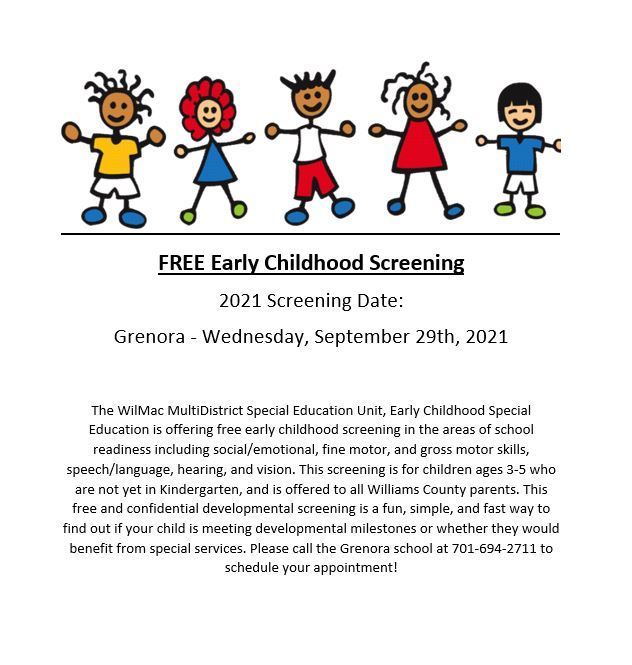 Just a quick reminder that tomorrow (9/21/21) is Picture Day! Attached is an order form. If using Venmo please be sure to include students full name, grade, teacher.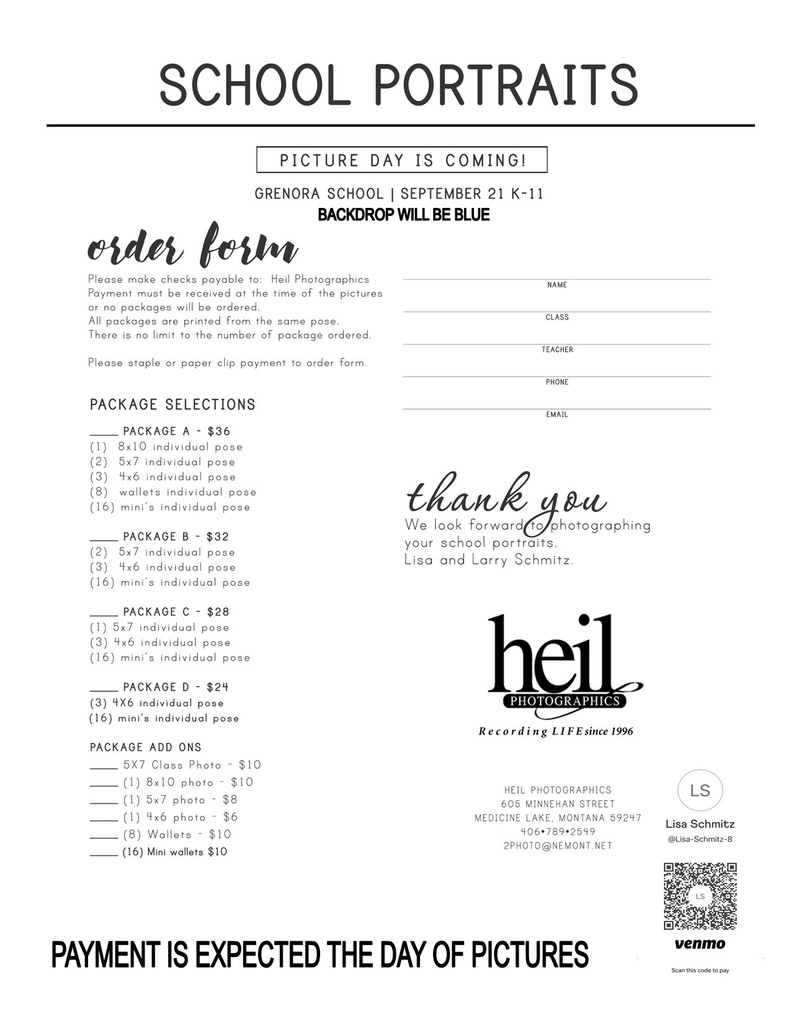 There will be a 4th-6th grade football game tomorrow night @Grenora vs Williston. Start time is 6:30pm CST.

Scobey's JV football team is not able to come over and play this evening. We are postponing the JV game tonight to a later date TBD. Practice for the JV boys will be in Grenora at 3:45 MST/ 4:45 CST.

Pancake Breakfast

JV Football Game Added! On Monday (9/20) there will be a JV football game in Grenora at 5:30 CST vs Scobey.

If you are interested in donating any baked goods or raffle baskets to the Thunder Volleyball Pink Night (10/8/21), please contact the Grenora School @ 701-694-2711.
Football Updates: 4-6 Grade Football Field Location Change: the football game tomorrow will be at 11 am cst at the Trinity Christian School Field in Williston. Varsity Football game starts at 7:00 pm cst tomorrow Saturday, September 18 in Poplar.

Yard Games & Slushburgers Tonight, Sept. 16th 6:30pm-8:30pm everyone welcome!
The 6th grade student will be attending Eco-Ed day tomorrow at the NDSU Research Extension Center from 8:30 until 2:30. The bus for this event will leave after the regular route busses and will return before the end of the day. Please let Mr Rudningen know if you have any questions.

Yard Games & Slushburgers Thursday, Sept. 16th 6:30pm-8:30pm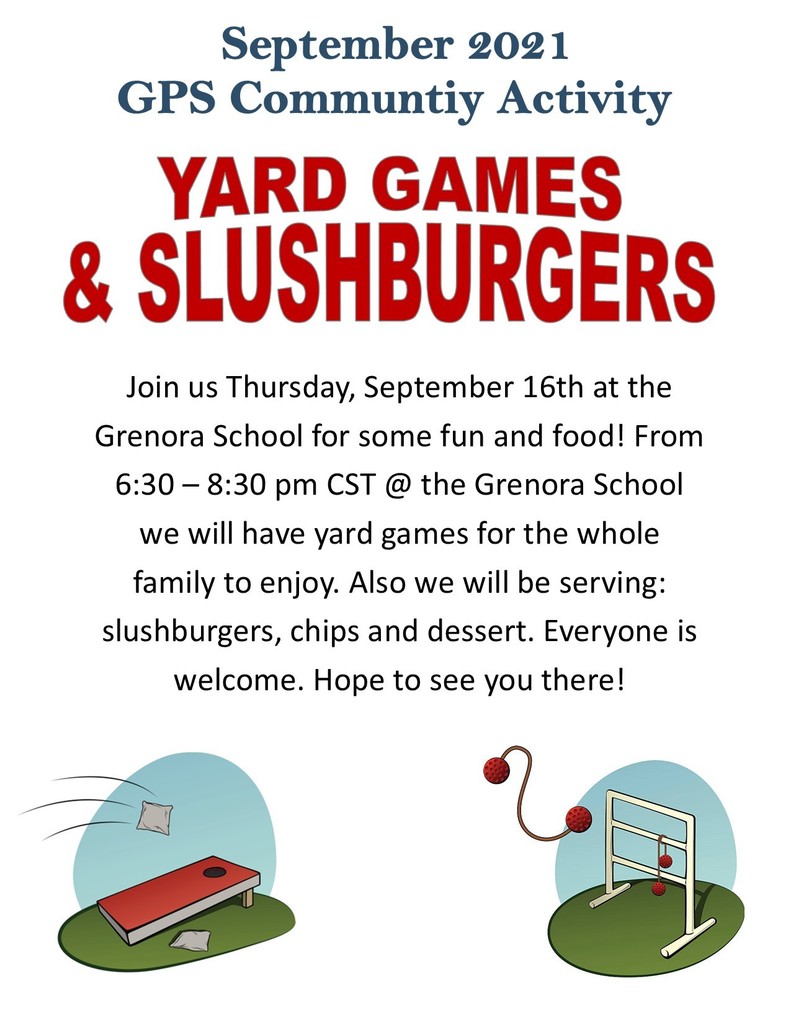 4-6 grade Football will have practice right after school tomorrow.

SEPTEMBER MENUS

Tonight, Thursday, Sept 9th Thunder Volleyball plays the Bainville Bulldogs in Westby. JH game starts @ 5:30pm CST and the Varsity will follow @ 7pm CST. Friday, Sept. 10th, 7-12 Grenora and Westby students will be in Grenora decorating floats for the Homecoming Parade which will begin following the 2021 Thunder Coronation. Join us @ the Grenora School Gym @ 2pm CST or by watching on Facebook Live or NFHS as we crown both Grenora and Westby 2021 Homecoming Royalty! Kick off for the Homecoming Football game against the Hawks of Broadus is at 8pm CST.

Flag Football for 1st and 2nd Grades will have practice on all Thursdays of the season at 4:00pm CST. No Practice September 23rd. All games are in Williston on Saturday at Cote Field. Schedule is attached.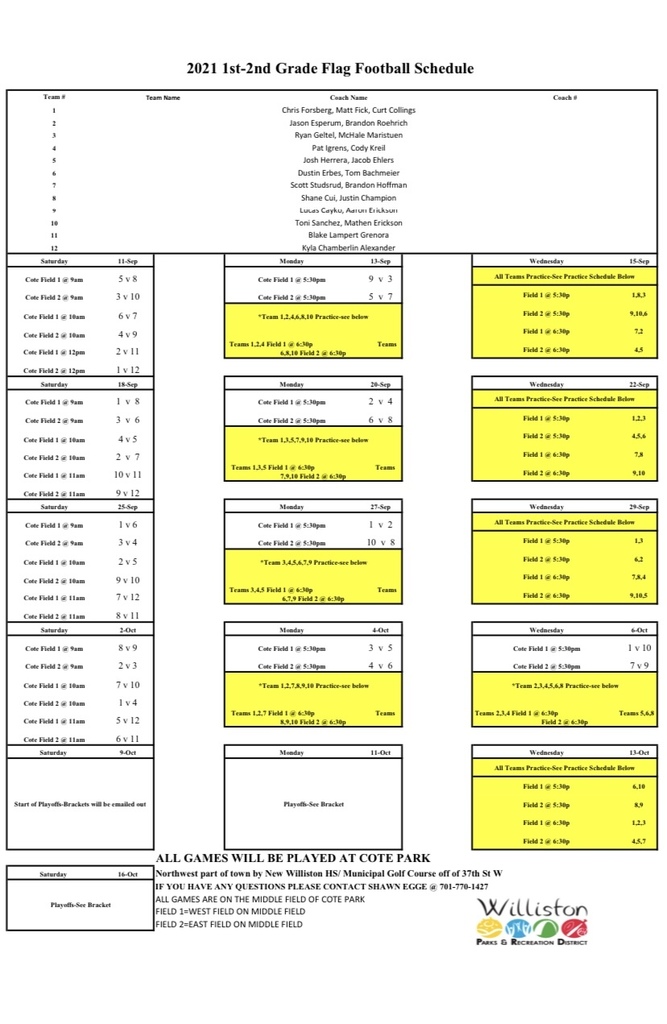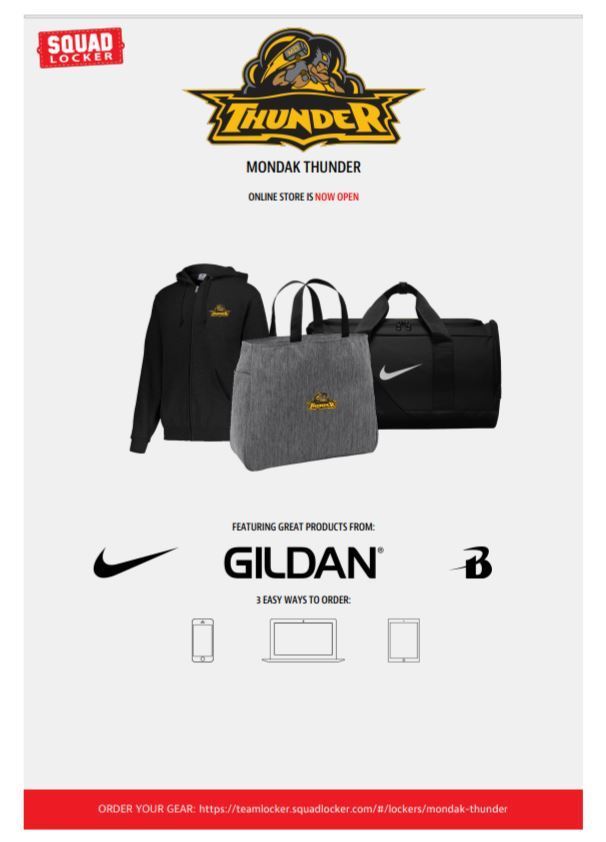 There will be 1st and 2nd grade flag football practice on Tuesday, 9/7, and Thursday, 9/9, at 4:00 pm CT. The first game will be in Williston on Saturday, 9/11, at 12:00 pm CT. More information and a schedule will be provided at practice on Tuesday.